Partners
OVERVIEW
Neeco's Global Alliance Program gives you the power to create a lucrative new revenue stream for your business. All business partners gain the right to sell and support Neeco products. These products are the most comprehensive, cost-effective, and high performance solutions available in the IT industry today.
Enter our global network of partners. Becoming a Neeco Partner will help you to increase your competitiveness and convert more leads and clients. Neeco's Global Alliance gives you and your business profitability and the power to enhance growth.
Benefits for business partners: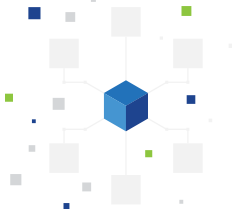 Attractive purchase price of products with interesting business margins
Convenient financing (including the possibility of flexible financing)
Product configurators
Product training and education
Technical support for solutions
Marketing support for solutions
Global reach
Free access to the Global Alliance Portal
Increased partnership also means Supplier Exclusivity:  a higher level of partnership gives you exclusivity on projects in your area.
Supporting documents for marketing campaigns (photos of products, graphic bases, etc., …)
E-news updates
Extended Support Hours (24/7 Support Hotline)
Access to internal Neeco ProTrack system
Local and global presence (more than 160 countries worldwide)
Single point of contact
Neeco turnkey solutions available instantly for your customers
"White Label" Operations
MEMBERSHIP LEVELS
Participation levels include Member, Premium and Elite. You can move up the Partner World levels by demonstrating success and earning points by proving your knowledge (professional skills), by the amount of turnover with Neeco, creating "case studies", achieving high customer satisfaction scores, or publishing client references.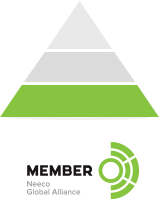 Member
The Member partnership level is the first step required to emerge with Neeco. This level requires a minimal commitment: simply complete a Partner Due Diligence, sign an NDA document, and accept the Global Partner agreement. There is no charge to join our Global Alliance Portal. In return, you will be a part of the Neeco Global Business Family and you will have access to a comprehensive set of benefits.
Benefits
Full portfolio of Neeco services and know-how
There is no charge to join our partner structure
Technical support and porting assistance
Extended Support Hours (24/7 Support Hotline)
Access to internal Neeco ProTrack system
Local and global presence (more than 160 countries worldwide)
Single point of contact
Neeco turnkey solutions available instantly for your customers
"White Label" Operations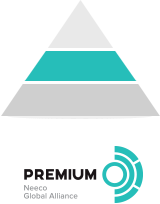 Premium
Partners at the Premium level have demonstrated a high level of skill and market success. This level also participates on high level of professional engagement.
Benefits
All benefits from Member level
Technical support
Marketing support and training discounts on our products
Free access to the Partner Portal
Financial benefits
Increased partnership also secures Supplier Exclusivity on projects in your area.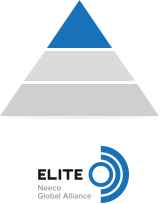 Elite
At the highest level of partnership, Elite Partners have demonstrated superior skills and market success. They actively collaborate with Neeco to deliver significant value.
Benefits
All benefits from Member and Premium levels
Favorable conditions for training support on our products
Attractive prices for products and interesting margins
Motivating rewards and other benefits, depending on your focus as a business partner
---
WHO WE ARE LOOKING FOR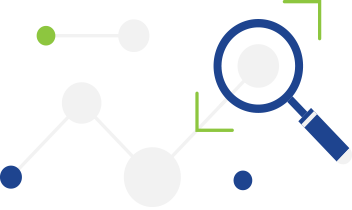 Neeco's Global Alliance is seeking the best and most reliable partners throughout the world, with solid teams and experience in their industry.
Whether you are looking for a service partner to assist your product strategy anywhere in the world, or an extended field service capability, Neeco's Global Alliance can be the right partner to help you develop your business and achieve your goals.
We are looking for professional partners of following company types:
Field Technician Providers
Companies who employ professional, reliable, high-performing IT engineers of various skill levels including:
L0 Engineers able to perform basic technical activities such as rack & stack, running cables, labelling, patching, moving of devices, etc.
L1 Engineers able to perform basic CPE installations on site while being guided remotely through required steps, or using pre-defined Work Packs including step-by-step guidance.
L2 Engineers who have the ability to independently install network devices, and perform standard troubleshooting steps to identify network problems.
L3 Engineers, Consultants and Trainers with expertise in designing data networks, independent deployment of complex projects, and performing advanced troubleshooting.
Hardware and Software Distributors and Resellers
Top-tier suppliers of IT hardware and software, with necessary vendor-based certifications and robust relationships with technology vendors, including distributors of:
Routing and Switching products
Infrastructure and Networking Software
Servers and Storage Products
Unified Communications
Security
Cloud solutions
IoT solutions
Consumer electronics
Office Hardware and Software
Hardware and Software Manufacturers
Leading as well as emerging technology vendors, with solid products, relevant certifications in target markets, and proven market share/ revenue streams.
For emerging vendors, we look specifically for products falling within the following criteria:
Products that are unique and potentially disruptive to the market
Products that are scalable
Products that are defensible
Maintenance Solutions Providers
Providers of IT Maintenance covering a range of services relevant to post-implementation support of IT and networking hardware and software, including:
Hardware replacement solutions
On-site support and troubleshooting
Warehousing and spare parts management
Remote support and remote monitoring
Maintenance services providers should operate a 24x7 Service Desk, offering some (or all) of the following TTS (Time to Site) or TTR (Time to Resolve) SLAs (Service Level Agreements):
24x7x2
24x7x4
8x5x4
8x5xNBD
Best Effort
Connectivity Providers
Connectivity providers offering cost-effective, business-grade connectivity of various contract terms, utilizing the following technologies:
3G / 4G Mobile connectivity
Satellite connectivity
Broadband access
Dedicated internet access
Warehousing, Logistics, and Customs Services Providers
Logistics and 3PL companies providing efficient movement of freight, supply chain, warehousing, and coordination services. We also look for organizations and individuals with strong local expertise who understand diverse Customs regulations, supporting fast and efficient shipment clearing.
CAPABILITIES WE VALUE
Strong Local Insight
We are looking for partners with strong local insight to help us exploit the knowledge of local environments in order to achieve the following business goals:
Deliver services and solutions within local markets in the shortest delivery times, cost-effectively, and at the highest level of quality
Identify key local decision makers and authorities to connect and work with
Identify important local events and initiatives where Neeco and our Partners can participate
Explore local business leads and opportunities, and answer them with appropriate services and solutions
Connect with the best local partners and subject matter experts to drive growth and enhance the tools and abilities of Neeco's Global Alliance
Technical and Approach Excellence
We honor those Partners who achieve extraordinary results and contribute to the next-generation technologies we deliver to our Customers. We highly value talent, leadership, and technology and execution excellence. The excellent technical approach of our Partners illustrates a commitment to support emerging technologies with state-of-the-art delivery architecture, fostering growth and superior business performance for our Customers.
Competitive Cooperation Conditions
We highly value Partners that present extra effort in terms of bilateral collaboration strategy and its conditions. Examples of such initiatives include helping to boost common productivity and competitiveness, a timely approach, enthusiastic cooperation of stakeholders, efforts to isolate and improve any issues, cost effectivity, and overall service quality.
WHAT WE OFFER
Be a Supplier
Our Clients expect the highest quality of service from Neeco, and to achieve this we enter into partnership agreements whenever appropriate. Our supply channel strategy is geared towards building relationships with the best suppliers in the areas of sustainability, compliance, quality, on-time delivery, and total cost. Through these collaborations, we are better able to:
Meet the needs of our Clients in terms of global project delivery
Develop innovative solutions based on new ways of thinking and diverse points of view
Address the infrastructure needs of an expanding world community
At Neeco we always strive to select Suppliers who share our values, our commitment to uncompromising quality, and our passion for delighting our Clients. Companies and individuals that supply the high-quality goods and services used by Neeco and its Clients will demonstrate the following qualities:
Previous experience and past performance with the product or service to be purchased
Ability to meet current and potential capacity requirements, and do so on the desired delivery schedule
A partnership approach making every effort to provide the best service possible
Strong service and clear communication
Technical support availability and willingness to participate as a partner in developing and optimizing design and a long-term relationship
Relative level of sophistication of the quality system, including meeting regulatory requirements or mandated quality system registration
Financial stability
Total cost of dealing with the Supplier (including material cost, communications methods, inventory requirements and incoming verification required)
Whether you are a system integrator offering professional services or a vendor of specialized products or services, we'd like to connect with you and explore opportunities for working together.
Expand your product portfolio and geographical coverage
Rapid decline in legacy services, together with conservative spending by organizations for traditional in-house IT solutions, have put significant pressure on ICT service providers to quickly implement new strategic, next generation services. As customers prefer complex, unified solutions, delivered seamlessly across many countries and regions, there is a growing need for portfolio expansion to truly capitalize on enterprise market growth opportunities.
By implementing Neeco's services into Partner's product portfolios, we help to accelerate sales and delivery cycles to get the most from the current shift towards centralized, next generation services.
To ensure that a Partner's image is unified and consistent, we offer White Labelling of solutions delivered by Neeco. With the right services offered to the end user, we can help to forge a powerful brand presence in remote markets for our Partners.
Be a Reseller of Emerging products and technologies
Neeco is always looking for great opportunities arising from introductions of new, disruptive, or innovative products and technologies. Our team carefully selects the best products that have an ability to expand quickly, generate excellent sales margins, and introduce additional strategic values for our Partners.
We invite our Partners to participate on products that sell towards markets and customers of their interest. Neeco supports such initiatives with a broad selection of programs and services, from financing, education, training, and business development resources to marketing services and pre- and post-sale technical assistance.
Let us distribute your great products
Do you have a great product or service you know Customers will love, and other Alliance Partners will benefit from? We are always keen to learn about the solutions our Partners have, and offer them to other Alliance Partners and Customers, or possibly integrate them as a strategic product into the Neeco product portfolio.
Utilizing Global Alliance partnerships can significantly reduce the sales costs and accelerate growth in new markets, utilizing the synergies between Partners.
Utilize ready-made Channel Structure designed for Technology Vendors
If you are a manufacturer of rock star products, looking for an efficient, motivated, fully managed distribution channel that will provide your business with coverage and support of a wide market and an additional source of revenue, then Neeco is the answer. Specifically for technology vendors, we have created a state-of-art, ready-made channel partner structure. Through that approach we are immediately able to promote, sell, distribute, and support products to more than 160 countries worldwide.
Neeco has an existing channel partner structure with necessary functions to support technology manufacturers, including:
Distributors
Resellers and Dealers
Having a functional channel partner structure in place, we can immediately support any of following requirements:
Help with GTM (Go-to-Market) strategy, distribution, and support plans
Help with product promotion and active selling through Global Alliance members
Providing warehousing, logistics and customs clearance support to deliver products to End Customers
Installing and integrating products at End Customers' sites
Providing technical support (L1-L3) to End Customer
Supporting products and providing warranty services (including SLA-based maintenance)
Providing multi-language, multichannel 24x7 Help Desk and Service Desk support for End Customers
Offering a wide range of additional services such as financing, technical support, etc.
INVESTING AND FUNDING
Neeco provides early stage capital and advice for entrepreneurs around the globe. Our mission is to provide startup financial support and business mentoring in order to increase your company's likelihood of success to the maximum extent possible.
We seek extraordinary founders with product vision, a sharp focus on execution, and unlimited ambition who want to build high growth companies.
Sectors
We invest in a wide range of market sectors, with a focus on Information Technology, Telecom, Consumer Products and Services, Hardware and Software, Mobile and Wireless, Green Technologies, and Healthy Lives.
Stage
We focus on seed and early stage investments.
Location
We are not primarily focused on any specific region, so we invite companies from any part of the world to apply for funding.
Money
The Company should be seeking $200K to $1.5M in equity financing. Neeco will also consider debt financing with an equity component (i.e. convertible debt or debt with warrants).
Mentorship
Neeco isn't just a source of capital; it brings top-notch mentorship and personal networks as well. Once invested, Neeco members want to bring any personal or professional resources to bear in the startup in order to increase its likelihood of success. Neeco members also often sit on a company's Board of Directors or Advisory Board.
Target Company
We seek extraordinary founders with product vision, a sharp focus on execution, and unlimited ambition who want to build high-growth companies. The Company must have an extremely capable management team, some "proof of concept" revenue, and a working prototype/product in beta stage with clear market validation (pilot, inputs from Clients/ potential Clients etc.).
Contact
BECOME A PARTNER
The Neeco Global Alliance gives you everything your business needs
That means more money, happier customers and unlimited opportunity
REFERRAL PROGRAM
Neeco Global Alliance (NGA) Partner Referral Program provides generous rewards in return for referring sales opportunities to NGA, and Neeco as whole. If you are not a formal NGA member, you can still participate in the Referral Program. Also, this might be just another way of engaging with NGA, while becoming a member of our Neeco Global Alliance partnership platform.
The Benefits of Working with Neeco and Neeco Global Alliance
Working with us is very simple. Do not worry about fees, long-term agreements and other requirements. Just fill out a form to register a qualified sales opportunity. As an incentive, if the qualified opportunity actually closes, we offer 10% of the first-year revenue from this opportunity.
Key Requirements:
Facilitation of the first meeting between NGA Account Managers with the prospects that have communicated their interest in NGA products and solutions

You as a Referral Partner should be able to connect through our Account Managers with the right contacts at the prospective company (IT Administrators, IT Directors, Active Directory Managers, IT Managers)

The prospective company should be fit for Neeco based on one of the following criteria:

The company is interested in telecom solutions
The company is interested in telecom solutions
The company requires assistance with any form of end user support
The company would like to build on any kind of advanced services offered by Neeco (such as cybersecurity, mobility, business video and collaboration)
The prospective company has a need for flexible financing and ownership options
The company is interested in logistics, warehousing and staging
The prospective organization would like to be informed about the NGA product portfolio, or intend to offer their product solutions, not limited to only software or hardware
The company is looking for a strategic consultancy services regarding the ICT field

Opportunity is brand new or inactive over a year
All registered opportunities are validated by our NGA Account Management Representative
Neeco Global Alliance Partner Referral Program
The process of referring a new opportunity:
Provide full contact details (name, phone number, physical and electronic address) of the specific person at the prospective company
Submit the details via online Referral Registration form
Our Account Management Team will contact you within two or three days
If the registered referral meets the conditions listed above, you will receive 10% of the first year's revenue value
Please be prepared to work with us by phone or e-mail to facilitate a personal or an online meeting with the prospect.
Terms and conditions:
The referral opportunity must meet the requirements of the NGA qualified opportunity as defined above and confirmed as a result of the initial meeting.
The registered opportunity must close within one year of the referral date
The referral partner gets 10% of the first invoicing of the revenue, with a maximum pay-out of $2,000.00. The 10% incentive payment will be connected to the initial customer billing, not to exceed one-year value.
Payment will be made upon receipt of payment from the prospective company.
Referrals are not geographically limited.
WWW.GLOBALLALLIANCE.NEECO.COM © 2017 NEECO, ALL RIGHTS RESERVED
Contact Us To learn more about becoming a Neeco Global Alliance Member, email us at alliance@neeco.com.
HEADQUARTERS PHONE: +44 203 290 99 09, USA +1 646 652 651, ASIA +85 281 241 224
Opportunity Referral
Please submit the form below to refer an opportunity to Neeco.
A red asterisk ( * ) indicates a required field.